Finding the Ultimate Virtual Assistant for Your Business
Building a Successful VA – Client Partnership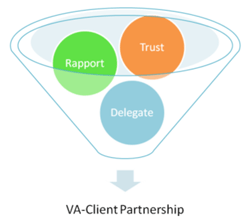 Passion is one of the key factors behind the success of many VA's. When a successful virtual – client relationship is achieved, the VA is able to deliver quality results while going above and beyond. Clients, who recognize the abilities and industry expertise of the VA, stand to gain the most from the partnership. Sharing in the clients' success enables a VA to remain self motivated.
The top factors that contribute to a successful virtual – client partnership are:
Trust:
Building a solid foundation for the facilitation and exchange of confidential documents and information in the beginning of the relationship, is critical. Ensuring that the VA has a privacy policy in place and that it meets your expectations is a great way to ease any apprehension. The top ways that a VA should respect your privacy are by:
Taking the proper physical measures to secure access to online and printed materials.

Providing personal details such as references, security clearance and other relevant information about anyone who will be working with or have access to your information.

Implementing the right technological procedures such as using fire walls, virus protection, passwords and by ensuring that any other third party software or website they may use for collaboration or payment collection is also a trusted, encrypted source.

Using caution when disposing of or destroying your information.

Notifying you when new information is required, explaining what it will be used for, and allowing you access to the information.
Working Style:
A VA is an independent entrepreneur. Unlike a traditional assistant, the workflow of a VA does not need to be managed. The VA will work towards an outcome that meets or exceeds your expectation however; the methods and styles used can vary, especially by region. You can ask the VA to share details about their work ethics, approach and methods they will use throughout the partnership. The sharing of this information will help you determine if that VA is a good fit for you and your business style.
Effective Delegation:
It will take time and effort by both parties before a truly effect delegation pattern is achieved. Once this level of workflow is in place, you will have developed a very productive routine. Implementing strategies that allow for timely communication of pertinent information will allow the VA to successfully carry out each project. Utilizing common communication skills such as paraphrasing, asking questions, demonstrating active listening skills and reiterating information will lead towards developing that routine. Setting expectations and measuring results accordingly is a great way to reach a comfort zone. A positive attitude, encouragement and recognition will boost confidence and help maintain the effective delegation routine.
Autonomy and Value of Work:
With a commitment to their work, a VA is able to create the perfect environment where their personality and business ideas will flourish. Partnering with the right client can trigger positive reactions such as achievement of their goals and self satisfaction. By sharing and exchanging ideas, the VA is able to work towards the development of strategies to enhance the workflow within their niche industry.
---
NEXT PAGE – Top VA Marketing Tools, Advertising Resources and Networking Circles
Back to Main Index – Finding the Ultimate Virtual Assistant